There are a number of oral or periodontal diseases which have commonly been experienced by many. One form of a periodontal disease is gingivitis. It is an inflammation of the gum tissues and a kind of non-destructive periodontal disease. It has two types namely plaque induced and non-plaque induced. Plaque induced type occurs when there is build up of bacteria on the teeth. These bacteria form plaques and tartar which is usually located at the base of the gums, which causes the gums to be inflamed and irritated. The second type is non-plaque induced which do not result from plaque and tartar formation. It could be caused by systemic causes such hormonal change, or certain medications or from other diseases such HIV infection.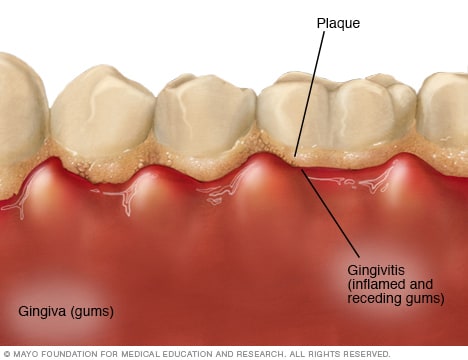 Symptoms
Symptoms of this periodontal disease include bleeding gums, even with the use of soft toothbrush and gentle brushing, tender gums but could be painless, swollen gums, bright red to red-purple color of the gums, and mouth sores.
Risk Factors
Those who are at risk for developing this condition include those who have a systemic infection, individuals who have poor oral hygiene, those who have teeth who are misaligned and pregnant women (due to hormonal changes that makes the gum softer) to name some. It could also lead to another condition called periodontitis in which the condition is left untreated and the bacteria reach the ligaments that support the teeth. This usually leads to loss of teeth especially in adults.
Once you have noted the symptoms discussed above, you should consult your dentist immediately. The dentist will do a careful assessment and use particular instruments to clean your teeth and remove the cause. To have adjunct therapy, proper oral hygiene at home should be observed at home to make sure the treatment would be successful. Over the counter anti inflammatory drugs may be prescribed. The main method of prevention for gum inflammation is oral hygiene and regular visits to your dentist.